Jay Moriarity 1978 2001 I Woke Up
Jason Shellen
22 years ago · 3 min read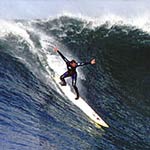 Jay Moriarity :: 1978 - 2001
I woke up Sunday morning to some really bad news.
Jay Moriarity had died
. My heart sunk. I was about to spend the day in Santa Cruz, his hometown and I couldn't stop thinking of him all day. Before I left Santa Cruz tonight I stopped by one of the many quickly put together memorials to Jay along the ocean and wondered how he could already be gone. Jay is one of my heroes. It sounds strange to say it. After all Jay is five years younger than I am but if you had ever seen the man surf you would understand.

I first heard about Jay in January of 1995. Hawaiian surfer Mark Foo had just died a few weeks earlier at a local surf spot, Maverick's near Half Moon Bay. Maverick's had a reputation for being a hellacious and awesome spot to surf. Rumors were swirling that a young kid had wiped out just a few days before Mark had died but he had survived. It wasn't until I laid eyes on Jay in the May 1995 Surfer Magazine that I began to understand what had taken place. A 16 year old Jay had charged a 40 foot monster wave on his first time at the surf spot. He took a noble stance on the lip and then fell down the face of the wave and lived to tell the story. Photographer Bob Barbour caught the session and helped make Jay a local hero. Team Oneill signed him shortly and plastered his famous wipeout everywhere.


The local taco stand put a surfboard of his on the wall with the picture. The Oneill shop on 41st Avenue still has the tail section of the very surfboard he was using that day back in 1994 on the wall. He became a local legend, part of Santa Cruz. He used to work at Pleasure Pizza. I ate at Pleasure Pizza! How can the immortal walk among normal men. He should have died that day everyone said. He can't he must have a purpose here. Jay went on to be a great longboarder and an even better big wave rider. He also was a nice guy, which can be a rarity in surfing. A goodwill ambassador for surfing. He married not too long ago to his high school sweetheart. I just watched him in an instructional longboard video. What moves. I wish one day to have even a tenth of the moves this guy has in the water.


I never met him in person and now he's gone. I won't ever bump into him at Pleasure Point and exchange a quick conversation about how the surf is flat today. I won't hear him complement me on my choice of a Pearson Arrow surfboard (the brand Jay rode). When I am a better surfer (one day), I won't hear him hoot for me as I get sucked under the curl and then jet out into the face again.


I might meet his wife Kim. I might see his father or his friends on 36th Avenue. I will surely eat at Pleasure Pizza and buy another Pearson Arrow. I will miss Jay's amazing accomplishments and his impressive, short career. I will miss having one less friendly and good surfer on the earth and I will surely try to be as friendly as possible when I am in the water (and out). Jay, when I am out there I will think of you. I only ask that you please watch my paddling and help me remember not to be afraid of seeming insurmountable challenges. Rest in peace brother.



More about Jay...


Quicksilver Contest bio


Jay at Maverick's December 2000


Maverick's History


City mourns famed surfer :: Mercury News


Grief, shock follow famed young surfer's death :: Santa Cruz Sentinel


Internationally known Santa Cruz surfer dies at 22 :: SFGate


JAY MORIARITY DIES IN FREE-DIVING ACCIDENT :: Swell.com


---