Mele Kalikimaka!
Jason Shellen
20 years ago · 2 min read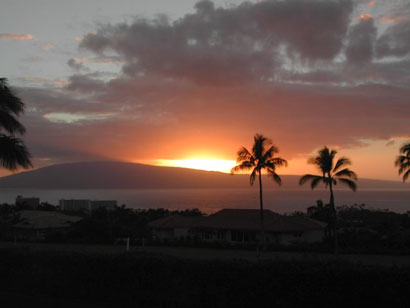 December 27, 2002 - View of sunset over the island Lanai from Kanapali, Maui.
Well I guess by the picture you can tell that Allison, Drew and I spent the better part of the holidays in Maui. 80 degree plus weather was a nice change from the rain and wind of the Bay Area. Since I couldn't possibly cover everything seen or done over our 10 days I'll break it down list style:



Drew is quite the ladies man. Poor kids cheeks can't take the pinching much longer. At 8 1/2 months old he is flirting at a 2 year old level. We are so proud. Lots of Hawaiian ladies wanted to buy him drinks but he had to decline until he can hold a glass.

New Years Eve in Hawaii = Fourth of July on the mainland. Fireworks are sold in grocery stores. I saw a yellow sulpher cloud above a neighboring apartment building on New Year's Eve. It was fun to listen too at least.

One day while surfing with my sister-in-law and brother-in-law we spotted what looked like a reef shark about 10 yards away. We decided to head in early and grab lunch before we became lunch.

I walked to Java Jazz, the best coffee shop on Maui, every morning of vacation. I miss walking to coffee now that I'm home. Plus my local Starbucks doesn't have naked Barbies in a cage like Java Jazz (I think it's some sort of art project).

The last time Allison and I were in Maui it was for our honeymoon 4 1/2 years ago. Back then, we discovered something interesting and it's still going on. The Gap and Banana Republic stores in Lahaina, Maui still receive shipments of long sleeve shirts, sweaters, and winter shoes despite the fact that the residents of Maui don't need such items due to the nice weather. To move them off the shelves they sell them at crazy insane prices to tourists such as myself. I obliged and am fixed for winter clothes through 2005.

American Airlines served a meal at 1:00 am and started showing a movie at 2:00 am on our midnight red-eye flight home. Is this necessary? Everyone was trying to sleep. Can't they make a 'No thanks, I'd rather sleep section.'?

I read 'The Fist of God' by Frederick Forsythe. I highly recommend it. Hawks and doves alike will find it interesting. It's spy fiction mixed in with a lot of actual events that led to the Gulf War in 1991. It gave me a better picture of what went wrong, what should have been done, and what we could do to avoid this sort of thing in the future. Unfortunately, we haven't learned much and I fully expect a duplicate war to be underway by the end of this month.
---