I'm prolific... at work
Jason Shellen
18 years ago · 1 min read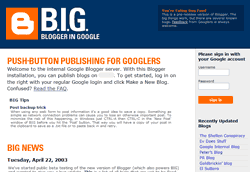 Craig Silverstein
of Google
told the crowd at ETech
that we released an internal version of Blogger in Google. I thought I would tell you a bit about it since it's been interesting and helpful for us in our recent development efforts.

Remarkably, we tailored our internal version of Blogger for Google by the end of our fifth week in our new digs. For short 'Blogger in Google' is BIG. A tip for all you smaller web services who get purchased by larger companies, release an internal tool that your co-workers can't live without! Sure, we went from answering tech support for the masses (Blogger Pro, et all) to answering tech support questions in the lunch line but it's been worth it. Our public version of Blogger will benefit from this round the clock scrutiny. All in all it's been a lot of fun, plus I didn't quite make the blogging A-list the first time around, but I have a second shot at work. My internal blog, The Shellen Conspiracy, has certainly seen much more attention than shellen.com in recent months, sorry. :( It's just that I can be a bit more open in my internal blog. I think I'm still finding my balance between what can be blogged here and what I keep as competitive info.


If you want to hear more about BIG, I'm giving the June 10th Keynote: 'Where Weblogs Matter' at the ClickZ Weblog Business Strategies Conference in Boston. If you can't make it to Boston, I'll be speaking about Blogger at the eLearning Forum meeting this Friday morning in Mountain View. Hope to see you there.
---