How to use your SprintPCS Wireless Camera phone with Blogger
Jason Shellen
18 years ago · 3 min read

Many of you have emailed asking how to post photos from your SprintPCS phones as I have done on
my wireless blog
. We have been doing a lot of work on this lately and have recently added in support for text and voice files from Sprint as well. Since this is a new feature for Blogger it is by no means a fool-proof method and should be considered 'in beta' but I welcome you to try it.
Other things to note, this method has only been tested for a few phones and may not work for your particular Sprint PCS camphone. If you do experience problems, let me know and hopefully we can find out what needs to be done to add in support for that particular phone. Another thing is that the way we handle Sprint content is by pulling from their file servers so no guarantees are made for the ability to host files there forever. In other words, your images aren't upload via Blogger, we just link to them. I have been backing up my images in the event something changes, but we are working on other solutions. That said, if you would still like to try it out just follow the instructions below.
Requirements:
A Sprint PCS camera phone. (I'm using the Sanyo 8100.)

A Blogger Pro account

What we are using currently to handle posting via SprintPCS is the Mail-to-Blogger component of Blogger Pro. You need to check your Mail-to-Blogger settings under Settings -> Email as shown below. The main thing you need to do, if you haven't already, is add a customized entry to your make your Mail-to-Blogger email address unique. In the example below, the unique Mail-to-Blogger address is 'myusername.123camphone@blogger.com'.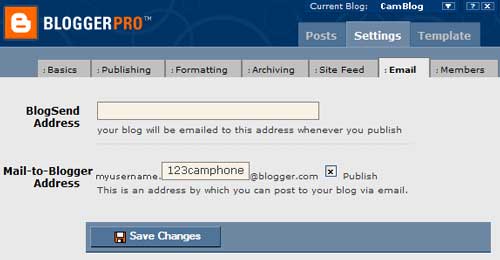 Settings in Blogger


After you have saved this setting you can add this email address into the address book of your phone. I've found with the 8100, that the easiest way to do this is after taking a picture. After taking a picture, you are presented with the option of sharing this photo. Clicking the 'share' option takes you to a list from your address book, the top of the list says 'New Entry'. Once you have selected 'New Entry', enter the Mail-to-Blogger address under the email setting and perhaps add something under the name field like 'Wireless Blog'. Searching for 'Wireless Blog' in the address book should now show that you have and email address for that name and it should looks something like the example above (myusername.123camphone@blogger.com).


Let's run through a quick post from the phone.



Take a picture

Select 'share'

Choose 'Wireless Blog' from the address book

Optional: You can record a voice memo to be included with your photo

Optional: You can add some text (not easy from a cell keypad). Just hit 'Ok' to post with no text

Click 'Send'

I've found that coverage is great in the majority of the Bay Area, not fantastic in the Central Valley and decent in the Tahoe area. This can affect your upload speed greatly. Please also note that Mail-to-Blogger can take a few minutes to post. Have fun with this new feature and leave comments and questions on this post. If you have a private question
ask it here
.

update: Since a few people have asked. This does not work for any other cell provider...yet. Even though I have done testing from other phones on my wireless blog, posting from other providers isn't yet ready. Stay tuned.


update 2: We finally have a general solution for all cell phones that can send email. See go.blogger.com for full details.
---