Handsprung
Jason Shellen
20 years ago · 2 min read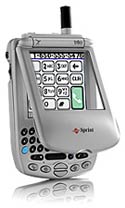 Thanks to an old friend over at Handspring my new
Treo 300
arrived on Monday.
Despite my concerns earlier this year
about the Treo 180 and 280, I am very happy with this new device. Since I already had Sprint service no number change was necessary and I swapped my plan over to a new 'unlimited wireless' PCS Vision plan, it took about 20 minutes to get set up over the phone. Email and web access on
BART
is now easy as pie. Soon another favorite activity will be just as easy ;). More on this soon. The biggest benefit right now is that I'm using a Palm device again. Although I still own a Palm IIIv and a Palm VII, neither of them were seeing much action lately. Carrying a candy bar sized phone and a PDA requires a purse or fanny pack of some sort. Since those *ahem* weren't options for me I'm glad to have a useful device that not only replaces my phone and pda but can substitute for my laptop in a pinch too. Here are just a few quick notes for other Treo owners out there or folks looking to purchase one:
The included Blazer web browser is pretty good at rendering standard html, but I would still try and find the wireless versions of sites to make life easier on a 160x160 screen. My friend sent me a long list of bookmarks ready for installation on the Treo. You can download here.
Right now there is a huge discount on the Treo 300 for new Sprint customers at Amazon.com
If you are a long time Palm user such as myself then you probably have older applications that will find a new home on your Treo, however as with most operating systems, the good applications are 'sold separately'. Here are some of the applications I have found that make using the Treo a bit more useful:
Here are a few more links I have found helpful in looking for applications and tips to make the most out of the Treo:
Improve your Treo
from
TreoCentral
,
PDAPhoneHome: Treo FAQ
,
EverythingTreo
and lastly
Treo software at Handago.
I'll let you know how I like it over the long term.
---