Chronic halitosis?
Jason Shellen
23 years ago · 1 min read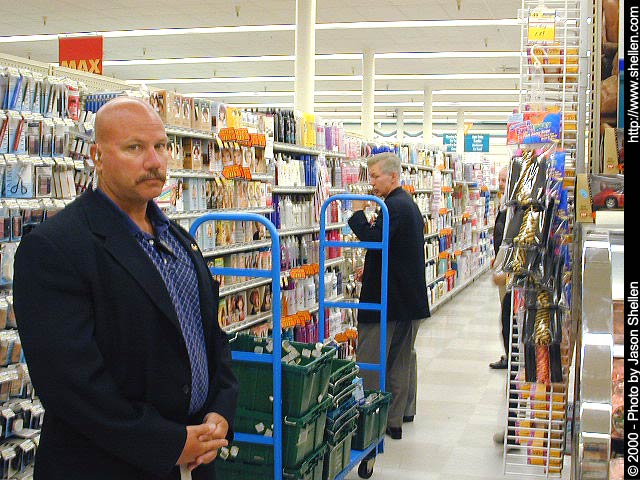 This is the governor of California, Gray Davis. The time is about 11PM on July 3rd. I was making a late night cookie run on Albertson's in Tahoe City, we spied a few official looking cars whipping around the parking lot when I realized that Gray "Not to be confused with the color" Davis was also making a late night run.
I went back to the car grabbed the Nikon and proceded to invade the poor guy's privacy. I did feel better about myself when I could hear drunk frat boys cruising up the aisles behind him shouting "Dude, Gray Davis is the sh**." "I totally voted for you man." "Hey, do you know Bob Thomas. Yeah my dad and him are buds, so do you know him?" Snapping a picture suddenly seemed WAY more cool than calling him "The Sh**".
Being the polite guy that I am, I decided to ask the secret service agent you see in the foreground if he minded if I snapped a picture. I made sure not to say "Shoot a picture".
I received silence and that menacing look in return. I decided I could run faster than him and fired away.
The low battery light came on, right after taking this picture. Damn, that meant I would have to remember that his late night run was for "Tresseme Extra Hold Mousse" and "Altoids". I'm glad his late night run was only for those items. Anything spicier and I would be kicking myself now if the governor had made a late night run for Lotrimin AF or something.
Next time.
---