I read it for the articles... about Britney's engagement
Jason Shellen
19 years ago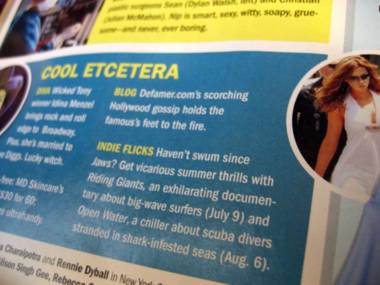 I'm back from Lake Tahoe after a little extended 4th of July vacation. I always read something interesting on vacation, usually a book or two. Sadly, it was the July 12th issue of
People magazine
this year. I blame my sister-in-law. Perhaps I can convince you that reading it was work-related? I'm still shocked every once in a while when I see blogging creeping into the mainstream. The photo above is a shot of the 'Cool Etcetera' section of People. It says:
BLOG Defamer.com's scorching Hollywood gossip holds the famous's feet to the fire.
Between this and Ana Marie Cox / Muffin Witchwood joining MTV News to cover the Democratic convention Gawker Media is on a roll. By the way, Ana Marie, MyPornName.com recommends Brandy Sinn. Just a thought.
Aside from the blog research I did on vacation, ahem, I also discovered that Lindsay Lohan landed a 'Major Record Deal' with Tommy Mottola. Yup. Vacation. Good to be back.
---