Hello!
Jason Shellen
19 years ago · 2 min read
The photo below is a screenshot from the new Blogger photo posting tool -
the Hello BloggerBot
. Essentially, a company called Picasa (that makes a great photo management app) also has a great P2P photo sharing app called
Hello
. Months ago they showed me a demo of Hello, I was able to share huge photos with my family and friends but was dying to be able to share these to the web.
Then they created the
BloggerBot to allow our users to share photos directly to their blog! Very cool. This means as of today, if you have are using Blog*Spot with your Blogger account, you can post pictures and they will be hosted for you. If you have your own host and publish via FTP - no problem - your photos will be uploaded to the same directory as your blog. There are a ton of little features that make this an amazing tool. I urge you to try it now! Here is a rundown of some of the finer points:



Easy as IM

BloggerBot will automatically resize your JPG pictures, add your captions, and publish your pictures to your blog

Pick a size - Want your inline post photos to be 320px wide and enlarge 800px size click-thru? It's all up to you

Customize a tagline - Leave it as 'Posted by Hello', choose your own text 'Copyright Jon Dough', or turn them off

Integrates with Picasa - Often called iPhoto for the PC, send pictures directly out of this great photo management application

Internet Explorer integration - See a web page that you want to take a snapshot of? Send it to your blog like I've done below with the BloggerBot

To try it, visit the
Hello site
, sign-up for a Hello IM name and download the Windows app. You'll be up and running in no-time. I'm sure you will find your own cool uses for this too. I've started using it to maintain my
photoblog
and I have an example of how it looks when using in conjunction with Blog*Spot at
shellendotcomphotos.blogspot.com
. I can't wait to see how you will use it!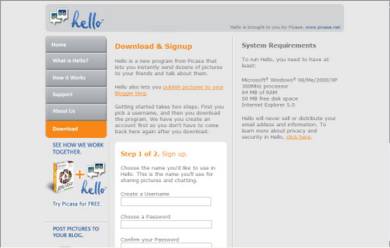 Posted by Hello
---